建築情報学ゲスト講演 杉原聡
Architectural Informatics Guest Lecture Satoru Sugihara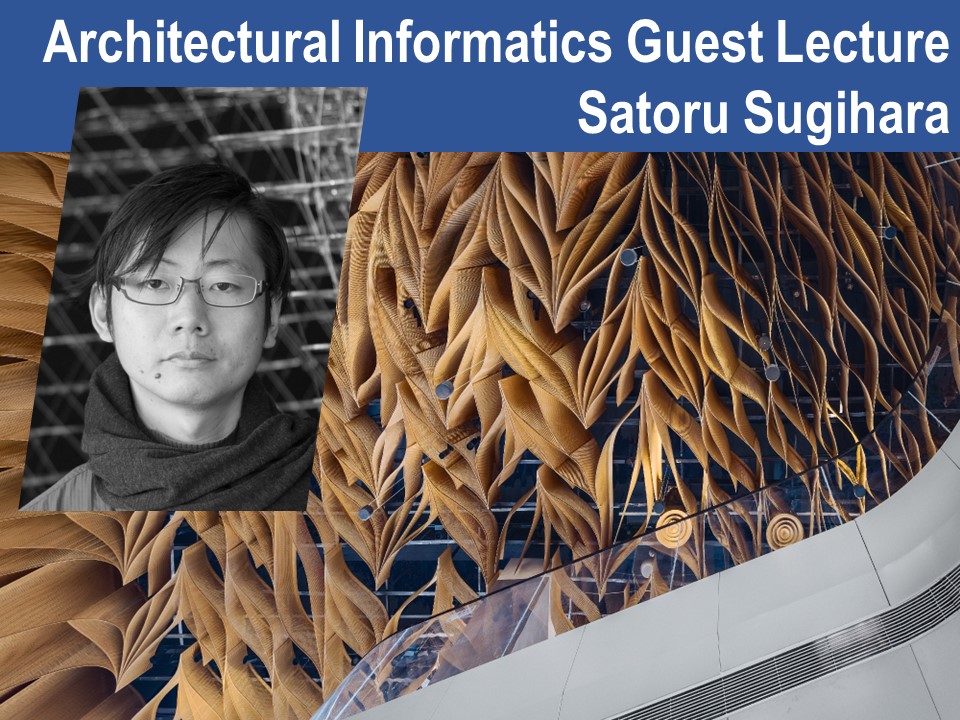 創造的コンピュテーショナルデザインのためのアルゴリズム設計論
建築情報学特別講演シリーズ(4)
日時:2022年12月23日(金)17:00~19:00
会場:工学部11号館HASEKO-KUMA HALL map
主催:池田靖史建築情報学研究室
杉原 聡 
コンピュテーショナル・デザイン事務所ATLV代表。
1999年横浜国立大学工学部電子情報工学科飛び級のために退学し、2001年東京工業大学情報理工学研究科修士課程修了後、2003年に渡米。2006年にUCLA建築修士を修了し、Greg Lynn FormやDR_Dにてデザイナーとして勤務した後、2007年から2012年までMorphosis Architectsにてコンピュテーショナル・デザイナーとしてエマーソン大学LA校、コーネル大学ゲイツ・ホールなどファサード・デザインに従事。2011年から2017年まで南カリフォルニア建築大学にて非常勤講師としてコンピュテーショナル・デザイン教育に取り組み、UCLA、AAビジティングスクール・ビルバオ、ブリティッシュ・コロンビア大学、パリ・マラケ国立高等建築学校、国立台湾科技大学など各地でワークショップを教える。2011年よりコンピュテーショナル・デザインのためのオープンソース・ライブラリiGeoを開発。2012年にコンピュテーショナル・デザイン事務所ATLVを設立し、ミラノ万博中国館屋根ファサードやイスタンブール都市博物館ファサードなどの設計に携わり、2018年より東京を拠点に活動。2014年にACADIA最優秀論文賞受賞。2015年にパリのAA[n+1] ギャラリーにて個展「Agent-Based Computational Design」を開催。 ACADIA査読委員、CAAD Futures査読委員、建築情報学会育成委員。
---
開催情報公開後、ご希望を複数いただきましたので、オンライン視聴も可能にしました ご希望の方は下記にお問い合わせください。
問い合わせ先: 建築情報学研究室 学術専門職員 住友恵理 sumitomo@arch1.t.u-tokyo.ac.jp
Architectural Informatics. Guest Lecture 4
Algorithm Design Methodology for Creative Computational Design
---
Date and time: December 23, 2022 (Fri.) 17:00:~19:00
Venue: HASEKO-KUMA HALL, Faculty of Engineering Building 11 map
Host: Yasushi Ikeda Architectural Informatics Research Lab.
Satoru Sugihara
Satoru Sugihara is a computational designer and a principal at the computational design studio ATLV founded in 2012 engaging in designs of complex and yet rational facades and buildings such as the roof façade of Milano Expo China Pavilion and the façade of Istanbul City Museum. Prior to starting his firm, he worked as a computational designer at Morphosis Architects from 2007 to 2012 working on various projects including the courtyard façade of Emerson College Los Angeles Center and the façade of Cornell University Gates Hall. He also worked at DR_D and Greg Lynn FORM as an architectural designer. He taught computational design seminars at Southern California Institute of Architecture from 2011 to 2017. He also taught workshop at UCLA, AA Visiting School Bilbao, the University of British Columbia, Ecole Nationale Superieure d'Architecture Paris-Malaquais, and National Taiwan University of Science and Technology.
Satoru Sugihara received the M.S. in computer science from Tokyo Institute of Technology in 2001 and the M.Arch. from the University of California, Los Angeles in 2006.
He publishes open source computational design software iGeo for computational design practice and education. He was the recipient of the Best Paper Award at ACADIA conference 2014. He had his solo exhibition "Agent-Based Computational Design" at AA[n+1] gallery in Paris in 2015. He also publishes open-source computational design software iGeo to contribute to the computational design industry and education.
---
Since we have received several requests for this event, we have made it possible to watch the event online.
Please contact the following address if you would like to watch the seminar online.
Contact: Architectural Informatics Lab. sumitomo@arch1.t.u-tokyo.ac.jp